How to get hold of Andrew
Plan A is email or phone. Often more reliable is to reach out via staff assistant Monica (who normally works 8am-3pm EST). Plan B, spontaneously turning up at Andrew's office, is unreliable.
How to find us on campus
The main lab is located in the Millennium Science Complex (MSC). Use the Huck entrance under the huge arch. Our lab space is at the end of W-124 furthest from the entrance. The group office space is in semi-random locations in W-224 or the offices off it. Andrew's office is W-230A Millennium Science Complex (Biology) or 511 ASI building(Entomology). For the MSC, the ideal cab drop-off is the carpark between the Eisenhower Parking Deck and the Eisenhower Auditorium (<$20 from airport). Zoomable map. Downloadable and printable maps. MSC GPS Coordinates: 40.8017905629288, -77.86038637161255.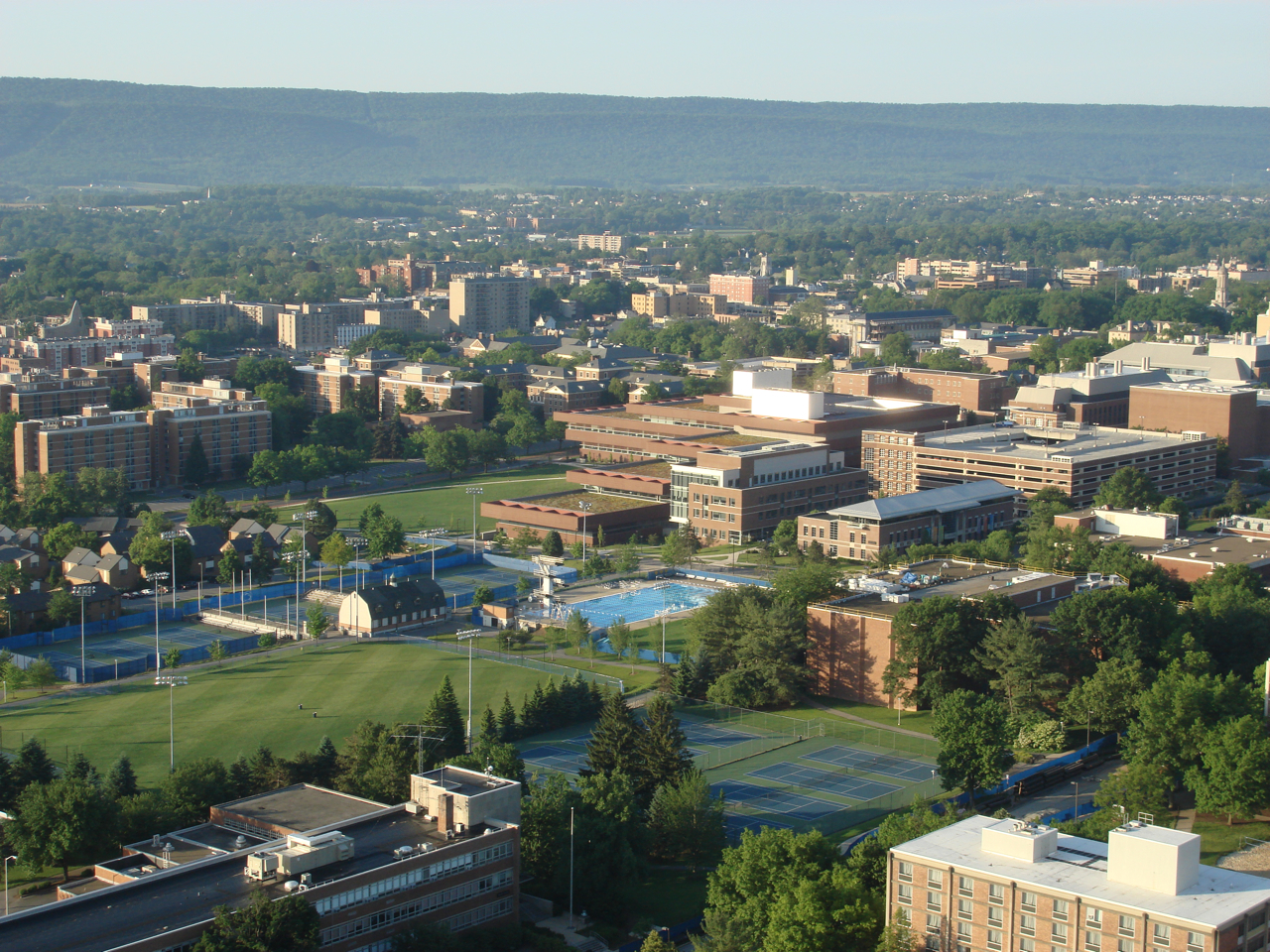 The MSC and surrounds, from a hot air balloon.
The mosquitoes and the folk working on them are shared with the Thomas group at the Merkle Lab on Orchard Road, near Beaver Stadium, 1.5 miles from the MSC. If you are in town, go north on Park, left at Fox Hollow Road, first right on Orchard Road, first left to Merkle. If you are coming in to State College on I-99/US-322, come off at signs for Penn State/Beaver Stadium. This brings you in on Park Avenue. For Merkle, turn right at Orchard Road or Fox Hollow Road then Orchard Road. Zoom-able map. Merkle Lab GPS Coordinates: 40.819298114019425, -77.85942077636719.
How to find campus
Penn State is in University Park, PA 16802. The town around is State College. We are in the center of Center County, Pennsylvania. Centrally located in the middle of nowhere, as the saying goes.
By road
It is a 3-4 hour drive to the nearby metropoliti (New York, Philadelphia, Pittsburgh, Baltimore, and Washington). Downloadable driving directions
By air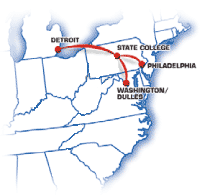 University Park Airport (airport code SCE; 13 flights a day, 10 minutes from campus), gets flights from Philadelphia International Airport PHI, Dulles International IAD (Washington DC), Detroit DTW and Chicago ORD. Delta Connection, Northwest Airlink, United Express, US Airways Express are the airlines involved, but these are all regional airlines that service the big boys: United, Delta, Northwest, US Airways etc.
Other airports within driving distance are Newark Airport EWR (3.5 hours to long stay car park), Pittsburgh International PIT (3 hours) or most any of the other east coast airports. Cars are pretty cheap to rent from those airports and the driving is easy once you clear the airports. Closer alternative airports are Harrisburg International Airport MDT (1.5 hrs away), or Altoona AOO (45 mins).
By other means
You don't want to fly or drive? How odd. This is America. You could try the bus. Megabus, Fullington (814-238-1100) and Greyhound Lines (814-238-7971) have options to and from State College. The Bus Terminal is located at 152 N Atherton St. One of them goes to Walmart.
The Pennsylvanian train operated by Amtrak runs a daily service from New York City (Penn Station) via Newark (Penn Station) and Philadelphia (30th Street Station) to Pittsburgh. This can get you close to State College. Stations served include Lewistown and Altoona (40 and 45 mins drive from State College respectively). We can pick people up from either of these locations.